Introduction
Im Adrian an affiliate marketer that love to help people find items that will be beneficial to them personally and/or professionally. In my role as an internet marketer, a tremendous facet of what I do is email marketing. In order to email market efficiently, it is important to have an email autoresponder. I decided to do an Aweber Autoresponder Review because it is the autoresponder that I use, and to help people to get an inside look into what this autoresponder has to offer.
If you have ever heard anything about email marketing, you probably have heard about Aweber. Aweber is one of the most popular email autoresponders that have been used by email marketers, ever since the company was founded over 20 years ago by Tom Kulzer in 1998.
Each day Aweber helps thousands of Entrepreneurs and small business to create and send emails to their subscribers. This allows these smaller business with limited resources to be able to compete in the market with the big businesses and organizations.
Aweber's primary focus is on helping their customers to achieve success with email marketing, by developing features and tools to help customers to email market as well as provide them with support, training, and continue education about the new developments in email marketing.
With this review I will be outlining the benefits of Aweber, how to use it, who it's for, what I like about it, what I don't like about it, and my final take on Aweber.
Benefits of Aweber
One of the best benefits of Aweber is the email autoresponder, which allows you to send emails on an automated schedule sequentially. By being able to send emails in an automated sequence, it ensures that your subscribers will receive emails consistently from you.
It is definitely important that your subscribers see emails from you consistently. The autoresponder ensures that you are visible with your subscribers, and It is easy to create and set up automated email sequences with their drag and drop editor.
The drag and drop editor gives you over 700 hundred email templates to choose from, and each template is mobile friendly. It's important that your emails are mobile friendly, because most people check their emails on their phones now as opposed to sitting down at a computer and checking it.
Aweber also allows people that have blogs to be able to convert their blogs into an email. This is an awesome feature, because it allows you to deliver your blog post to your subscribers, which will help with making your blogs even more visible, while sending out fresh content regularly.
Aweber also offers a vast array of HTML email templates, which allows you to send images and graphics with your emails.
You can create automated marketing funnels with Aweber, by tagging and triggering marketing campaigns that's based off of the links that the subscribers click on or the emails that they open. Aweber will be dong the heavy lifting and work for you while your sleep, once you set up your email sequences and marketing funnels.
As you can see Aweber offers a lot of great benefits, but the best one that it offers is time saving. Time is something that you can't get back once it's gone, it's precious. Aweber will help you save that valuable gem of time, and reduce significantly the amount of it that's wasted. This will allow you to be able to put that saved time energy and effort towards other things such as spending time with your family.
How to use Aweber
Aweber is a rather simple application to get started on. The first thing that you have to do is create an Aweber account. You can sign up by clicking here. You can actually get a free 30-day trial to try out Aweber, this trial includes Exceptional email deliverability; Phone, chat, and email support; Unlimited emails; Automation and segmentation; Unlimited sign up forms; Drag and drop email editor; 6000+ free stock images; Hundreds of integrations; and Mobile apps and analytics.
Once you have created your Aweber account, your next step is to create an email list. You can import a list from another autoresponder over to Aweber, but you have to create a new email list in Aweber first. The process to creating a new email list with Aweber is rather simple and straightforward.
After you have created your email list, you need to create email templates that you can use for different emails. The templates serve as a guideline to help you when writing your emails.
You can create email messages and newsletters to send out to the subscribers of your list. You can also use Aweber to create a campaign with multiple message series that are set to be sent out at a set time. Whenever you create a campaign you can either add people to the campaign or have people added whenever they are tagged.
Be sure to create tags and sub lists where you can send emails to select subscribers.
Create an autoresponder of follow up emails to be sent out automatically to your subscribers, because most purchases happens in the follow up phase. People usually don't buy the first time that they hear about something, they usually conduct some type of research on the product or service and are more likely to purchase from someone that they know and trust. Awebers auto responder is integral to helping a business or entrepreneur to build rapport and develop a relationship with their subscribers.
You can use Aweber to upload documents that you may want to give your subscribers as some type of bonus for signing up to your newsletter. This will allow a subscriber to download the bonus document that you're giving them.
Aweber has analytics that gives you data on your email autoresponder in the form of reports and statistics, that will help you to better understand what's taking place with your account.
You can send broadcast emails after your follow up sequence. Keep your subscribers up to date with your recent posts and pages on your blog, by setting it up to automatically send your blogs out to your subscribers.
You can use Aweber to create custom Sign Up Forms or use generic templates. These sign up forms are important to the growth of your email list and business, by allowing people to opt-in to receive emails from your business or organization. Aweber should be used primarily to build an email list, communicate with your subscribers(newsletters,offers, etc.), and grow your lists.
Who is Aweber for?
Aweber is for businesses/organizations(small or large) and entrepreneurs. It allows business/organizations and entrepreneurs to send newsletters and relevant offers to subscribers of their lists. Anybody that wants to build an email list and communicate information and offers to their subscribers, Aweber is for you!
What I like about Aweber
There are an abundance of features that I like about Aweber. I like that Aweber gives you 30 days to try out their services. I love the fact that you can not only create a list but also import a list from other autoresponders. This is critical to ensuring that you don't lose any of your valuable assets(subscribers), if you decide to leave one autoresponder such as mail chimp and go to Aweber.
I like the different email templates that can be used to create emails. The templates can help me with my creativity when creating emails that will resonate with my subscribers.
I absolutely love the autoresponder, and being able to set up a sequence of emails that can trigger certain campaigns based off of content that's clicked and emails that is opened. I also like that I can keep providing fresh content to my subscribers by sending them the new posts that's published to my website.
You also get access to every feature of Aweber the minute that you sign up, regardless of how many subscribers that you have. You don't have to scale up
What I don't like about Aweber
The only thing that I really don't like about Aweber is that when subscribers unsubscribe from your list, you have to delete them to ensure that you won't be accidentally charged for a subscriber that has unsubscribed. There is not a lot to not like about Aweber, as you can see I could only think of one thing that I don't like.
How Much Awber Cost?
The cost of Aweber is based off of the amount of subscribers that you have, so you essentially pay for what you use. I think that this pay scaling method is awesome, because it eliminates the chance of you paying for more subscribers than you have. It helps businesses to not waste their resources paying for a service that they are not using.
Final Take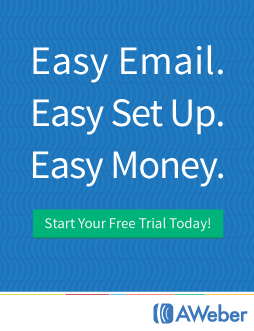 It's important that businesses/organizations and entrepreneurs have an autoresponder to help them build email lists and communicate their newsletters, campaigns, and offers to their subscribers.
Email marketing is still the best way to market to people, because it allows you to be consistently visible with them while building a relationship and establishing rapport with them. Since most people don't buy until after some research, your campaigns and offers will remain constant and visible to them.
When they are ready to purchase they'll see your offer, and will be more likely to purchase after building a relationship with you. Trust is important with whatever you do, and a good email autoresponder provides you the medium to build that trust and relationship with your subscribers.